375 km of rehabilited railways in Uganda
ETF, in consortium with SOGEA SATOM (VINCI Group), has just signed a contract for the rehabilitation of the railway connecting the cities of Tororo and Gulu in Uganda
Currently unexploited, this single metric gauge railway built between the years 1910 and 1930 will be rehabilitated over its entire way (375 km).
This major project is set up by the government of the Republic of Uganda with the participation of European funds. Its purpose is to improve socio-economic growth in the north of the country. The rehabilitated axis will allow the northern regions, located around Gulu, to join the main Kampala – Mombasa (Kenya) railway and develop the rail freight transport service.
Site detail:
Dismantling of all 375 km of track
Repair of the entire platform under ballast
Production and installation of 200,000 m3 of ballast
Repair or replacement of tracks, sleepers and track devices
Rest of the 375 km of the rehabilitated track
Ballasting and tamping for its return to service
Materials to replace or renovate:
2,700 bars of 12 meters of BS60 tracks
105,000 metal sleepers
14 track devices
In parallel with the main works: the sanitation will be rehabilitated, various structures of the line will be consolidate and service tracks will be built in the stations of Mbale, Soroti and Lira.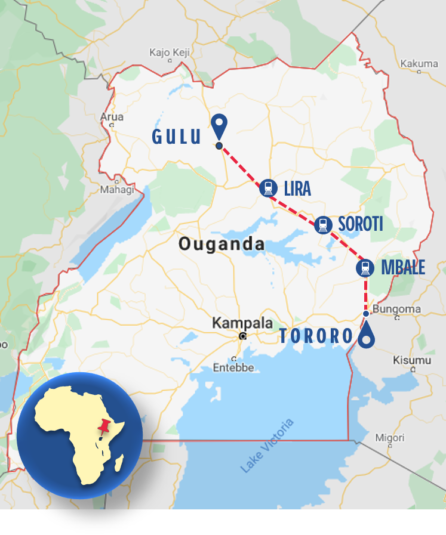 To carry out this project, ETF mainly intends to use local workforce. In total, around 400 to 500 people could be recruited. The works execution time will be around 36 months.